Featured Trailers for Sale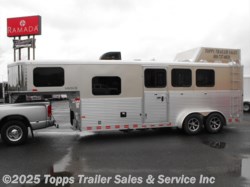 2016 Sundowner Santa Fe 6906 LQ. 6'SW


Sundowner Traileres 3 Horse Slt. GN.Rear Tack : Door To HA:  Drop Feed Doors (1 per Horse) :RS Rear Window Pkg. 48" Kick Wall in HA. : Head&Shoulder Stall Dividers : Stall Padding per stall :... More
MSRP
$41,980.00
Year-End Closeout
$39,200.00
HOLY MOLEY DEAL
$36,750.00
View Details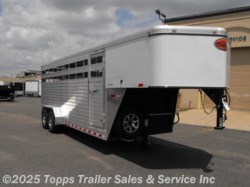 2015 Sundowner 24'GN.Rancher Stock Trailer
Sundowner -24'x 6'9" GN. Rancher 7' Tall 3-8' Compartments , w/ Sliders in cut gates 7K Dexter Elec. Brake TorFlex Axles 16" Spare Tire & Wheel HD Fenders Upgraded L.E.D. Trailer Lites... More
MSRP
$21,370.00
Year-End Closeout
$19,944.00
HOLY MOLEY DEAL
$19,180.00
View Details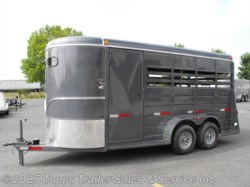 2013 W-W Trailer
WW- 3 Horse SLT Bp.7' Tall ; Wrangler 52K TFlex Axles;Single Rear Door ; Escape Door ; Walk In Tack w/ Saddle Racks ; Head & Shoulder Dividers......
Year-End Closeout
$7,590.00
HOLY MOLEY DEAL
$6,950.00
View Details
Welcome to Topps Trailer Sales and Service

Home Of Good Country Service
Topps Trailer Sales and Service has been serving the Ark-La-Tex for over 44 years. We sell the highest quality horse trailers, stock trailers,enclosed cargo trailers, utility trailers & gooseneck trailers. What ever you need to haul, we have the rite trailer for you. Feel free to visit our online Trailer Showroom or just Contact Us today with any questions you may have.